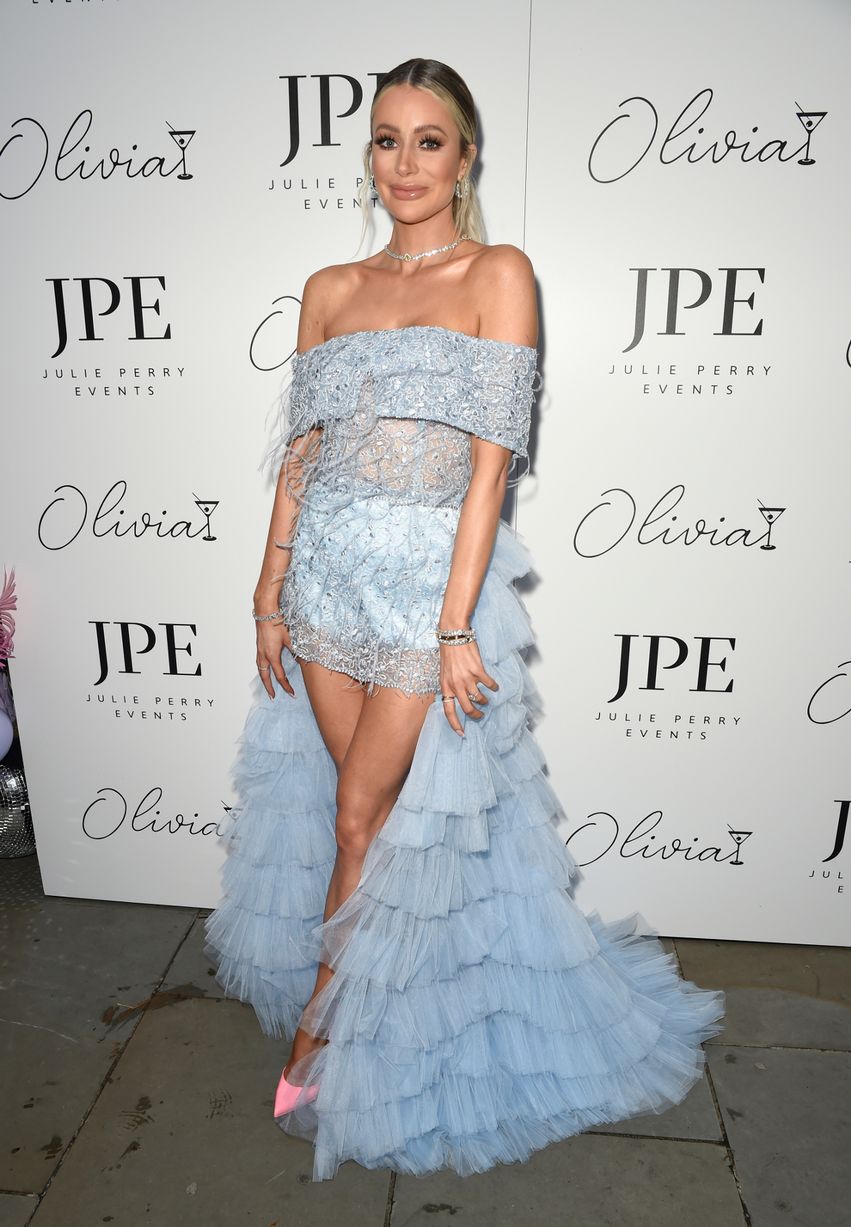 Olivia Attwood and Her Epic 30th Birthday Bash Making the Headlines
Love Island season 2017 has made a remarkable place in the minds of its audience for a lot of reasons, and one such reason is Olivia Attwood. It was no looking back for Attwood after her journey inculcated in Love Island. She got instant popularity on social media, and besides this, she bagged a spot on TOWIE and Celebs Go Dating. She didn't stop there, moving ahead with the same zeal she launched her own clothing brand ISAWITFIRST and her own show, Olivia Meets Her Match.
Olivia showed up in the headlines recently for her astounding 30th birthday bash. This beyond ordinary party was held at Hotel Gotham in Manchester. The entire rooftop was booked for the guests, where the birthday girl welcomes her friends and family in an epic powder blue high dress. Attwood looked sensational at her birthday party and caught all the eyeballs, and why not, it was the princess' birthday. She was wearing a Zeynep Kartal ruffle dress, while her finance Bradley Dack matched perfectly in a suit of the same shade. The guest list was filled with a line of Love Island faces, accompanied by the ex TOWIE star Fran Parman. This celebrity event had so much to talk about, the elegant dresses, glittering looks, and of course the celebratory atmosphere added to the overall glam.
Olivia Attwood, the International Model
Olivia Attwood born on 16 August 1991, is a model, reality TV star, and actress from Guildford, Surrey, England. She has traveled the world as a model, besides motorsport grid girl. Before Love Island, she was purely in the beauty industry where she participated in various beauty pageants. One such contest was a Tropic Beauty Contest, where she represented London. Olivia said it for herself that she can be quite naughty, and she has an amateur sense of humor.
Attwood and her reality show Olivia Meets Her Match
Olivia Meets Her Match is a famous reality show, and Olivia Attwood has become a star with this show. This is a reality series, featuring obviously Olivia while she prepared for a dream wedding with her footballer fiance, Bradley.
Olivia is too close to her family, especially her mother, Jenny. Her mother was a part of her reality show and she even visited Olivia on Love Island.
Her Love Angle
Olivia Attwood is engaged to footballer Bradley Dack. She was dating Bradley before she landed on Love Island. After her split from Chris Hughes in 2018, Bradley revealed his feelings to Olivia and proposed to her on a holiday to Dubai in 2019.
They were planning to get married in 2021; however, the couple seems dicey about the date now. Olivia in her reality TV series revealed that the couple is planning to shift their wedding towards 2022, to avoid all COVID worries.
Olivia also focuses on her clothing brand as much as she is working on her shows. The iconic collection ISAWITFIRST has already got a lot of appreciation from people in the industry. So, it's all bloomy for Olivia Attwood in the current times.