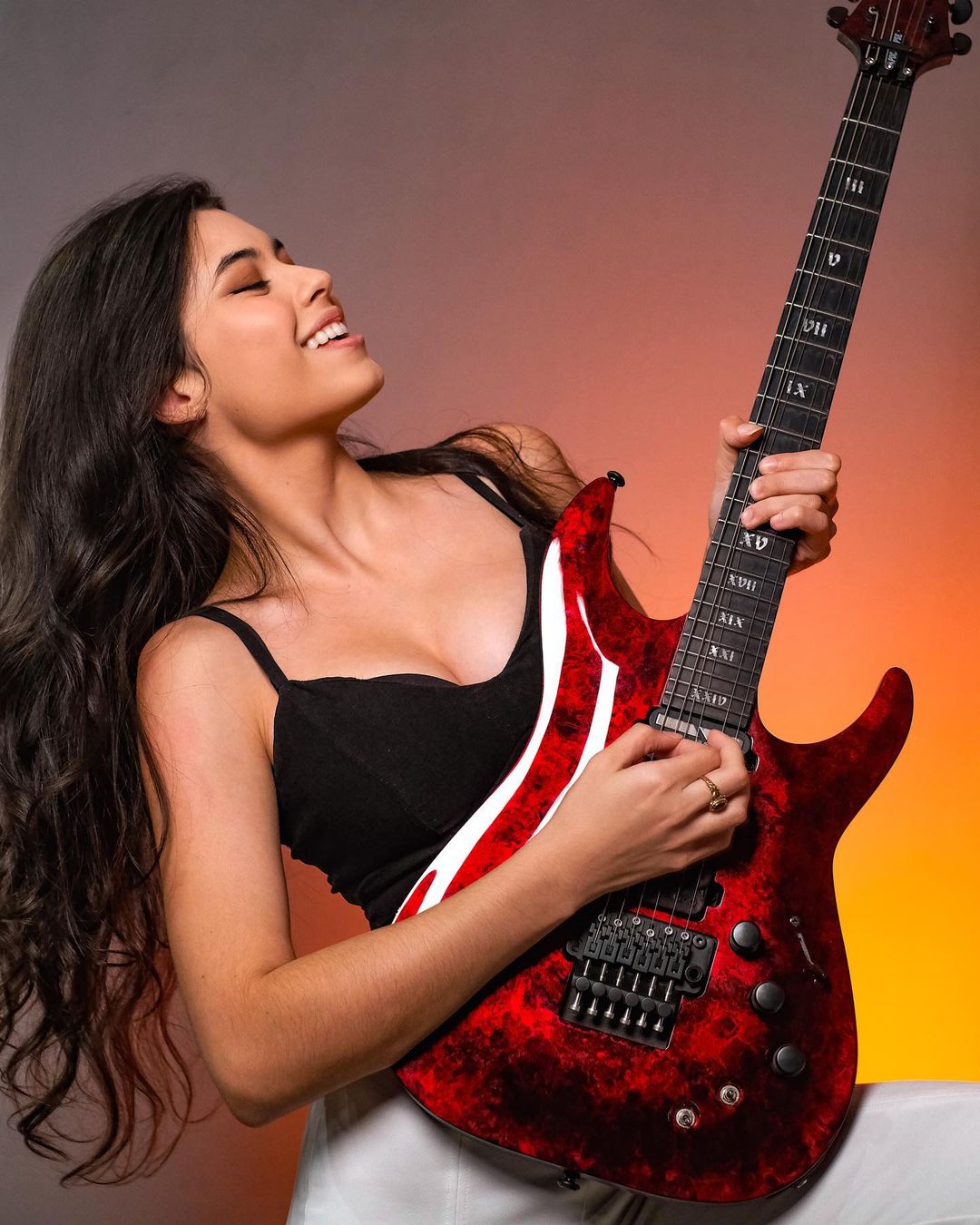 Unveiling the Talented Larissa Liveir: A Rising Star in the Music World
The global music scene is always abuzz with the emergence of new talents that capture the hearts of music lovers worldwide. One such rising star who has been making waves and captivating audiences with her exceptional talent is Larissa Liveir, a popular Brazilian guitarist, YouTuber, and Instagram model. Larissa's captivating music videos, where she skillfully showcases her guitar prowess, have garnered widespread acclaim, propelling her into the spotlight. With her infectious charm and undeniable talent, Larissa has managed to amass an impressive following of music enthusiasts.
Born on November 29, 2002, at Rio de Janeiro, Brazil, Larissa Liveir discovered her passion for music at a young age. After completing her schooling at a local institution, she embarked on a journey to become an architect, attending a Private School in Minas Gerais, Brazil. Unfortunately, due to the unforeseen circumstances of the COVID-19 pandemic, her aspirations in the architectural field were put on hold. However, this setback paved the way for a new chapter in Larissa's life—one that would see her rise to fame as a prominent figure in the music industry.
Larissa Liveir's musical journey took flight when she created her self-titled YouTube channel. Her exceptional talent and dedication resonated with audiences, leading to a rapid surge in popularity. Within just one year, Larissa managed to captivate the hearts of millions, amassing a staggering 1.5 million subscribers on her YouTube channel by 2022. Her unique style and unwavering passion for the guitar make her an extraordinary talent to behold.
Beyond her musical prowess, Larissa Liveir also mesmerizes her fans with her striking beauty. With a curvaceous figure that can leave anyone in awe, Larissa shares attractive photos across various social media platforms, further enchanting her ever-growing fanbase. However, despite her popularity, Larissa remains unmarried, allowing her fans to dream of a chance encounter with the talented guitarist.
Larissa's musical influences span a wide range of genres, with a particular fondness for rock. As a devoted fan of Guns N' Roses, Larissa confesses to loving their "rock 'n' roll vibe." She draws inspiration from legendary guitarists such as John Mayer, Santana, Van Halen, David Gilmour, and Jimmy Hendrix. Larissa's eclectic taste in music extends to alternative bands like The Killers, Oasis, Arctic Monkeys, Foo Fighters, Pearl Jam, Nirvana, and The Smiths.
While Larissa Liveir has yet to grace the stage with a live concert, she harbors dreams of sharing her extraordinary talent with the world in a live performance. Currently unaffiliated with any music band, Larissa is making plans to explore this avenue in the future, further solidifying her presence in the music industry.
Beyond her passion for music, Larissa Liveir comes from a loving family background that supports her endeavors. Although details of her family are relatively private, their unwavering support is undoubtedly a driving force behind Larissa's success.
As Larissa continues to make waves in the music world, her income primarily stems from her music-related ventures. With her talent, charm, and devoted fanbase, it's no surprise that Larissa Liveir is rapidly climbing the ladder of success.

The music industry is always hungry for fresh talent, and Larissa Liveir is a rising star who has certainly captured the attention of music lovers worldwide. With her exceptional guitar skills, captivating beauty, and vibrant personality, Larissa is set to leave an indelible mark on the entertainment world. Keep an eye on this extraordinary musician as she embarks on her journey to stardom, spreading her love for music and inspiring countless others along the way.